Success in Lisnaskea Feis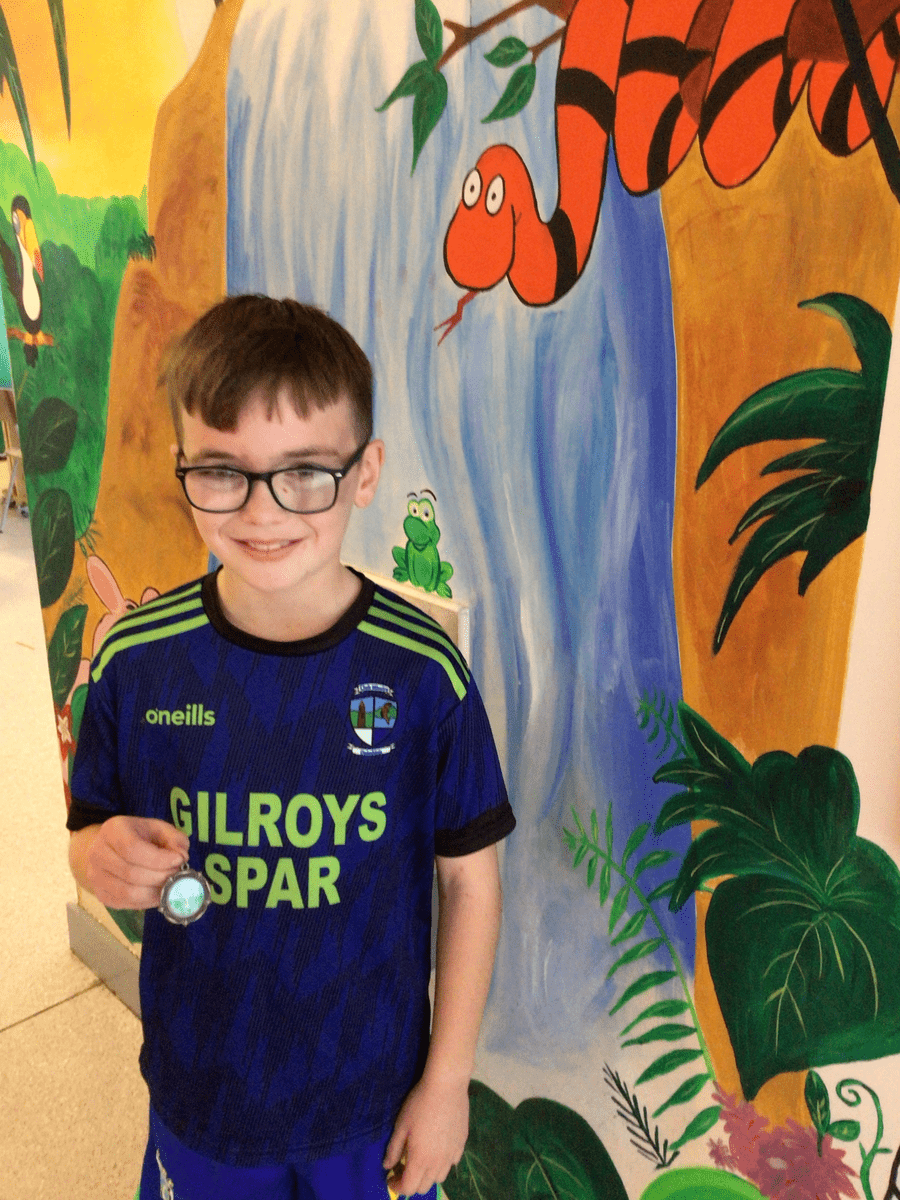 Congratulations to Zoi, Ava, Ryan & Darragh P6, Siofra P1, Alfie P3 & Muireann P2 on their recent success in Lisanaskea Feis. Well done everyone!
Our new School Council 2023-2024
St Patrick's Day Assembly 16th March 2023
What a fun morning watching each class perform a song, dance or poem in our assembly. Well done to everyone for taking part!!
World Book Day 2023
What a fantastic effort by all the children and staff!! Children designed bookmarks also with spot prizes given out!
Christmas Draw 2022
Congratulations to all our lucky winners!
Thank you to anyone that sponsored a prize!!
Christmas Play 2022
What a brilliant evening we had in the Gilaroo on Tuesday 13th December performing our Christmas plays. We home all those that attended it enjoyed the shows.
P1-P3 performed 'The Big Little Nativity', while P4-P7 performed 'No one wraps like an Elf'.
Halloween Fancy Dress
What a fantastic effort everyone made for our Halloween dress up. Some very spooktacular costumes on show!
Easter Raffle
Thank you to the student council and Miss Keown for organising a wonderful Easter raffle and organised a competition for guessing the amount of sweets in jar. They raised a vast sum of money for Trocaire. Well done everyone :)
Easter Story
The children in P6/7 reenacted the Easter story as part of their literacy activties. The whole school enjoyed the performance and were able to learn so much from the boys and girls retelling the story. Well done P6/7 and Miss Keown!!!
Term 2 Accelerated Reader word count winners
Well done to our amazing Accelerated Reading winners this term!
Winners
P4 - Ava Magee
P5 - Conor Latten
P6 - Joe Carty
P7 - Elsbeth Laitenberger (Missing from photo)
Term 2 Mathletic Winners
Congratulations to the boys and girls who were crowned Term 2mathletic wizards at our Easter assembly.
The children were selected for the consistent efforts they have shown in Term 2 for matheletics. Well done and keep up the wonderful effort.
Winners
P1 - Daire Mc Manus
P2 - Arwen Merrett
P3 - Austin Keown
P4 - Emmet Lavelle
P5 - Fintan Keown
P6 - Clara Burns
P7 - Elsbeth Laitenberger (Missing from photo)
Thank you
Huge thanks to Devenish GFC for the amazing gesture of sponsoring a brand new set of football jerseys to St Martin's and a special thank you to Brendan who liaised with the school and organised this gesture.
We had two excellent models and Devenish stars of the future to show the other children the beautiful jerseys - thank you Fionn and Maggie.
Special Visitor
On Friday 4th March we had a special visitor to our school....Mr Nathan Carter. He popped in to say hello to the children and even sang a rendition of his famous song "Wagon Wheel". The children really enjoyed it and provided them with a special memory from St Martin's P.S.
World Book Day 2022
The children celebrated World Book Day in St Martin's P.S on Thurday 3rd March.
The children and staff dressed up as characters from their favourite fiction or non fiction books. The costumes were fantastic.
The children also had to make a face mask of a chosen character from a book. The effort that the children went to was amazing - well done everyone!!!
Thank you Devenish
Devenish G.F.C kindly donated footballs to the school.
The balls have been put to good use by KS1 and KS2 classes during PE lessons.
The children have really enjoyed using them.
Thank you to all at Devenish G.F.C and good luck to all underage and adult teams in the forthcoming Fermanagh leagues from all in St Martin's.
E-Safety
We celebrated Safer Internet Day on 8th February.
Each class discussed how to stay safe online.
They looked at a fake website to show the importance of not being being to believe everything you read on the internet.
They also discussed ways how we can protect ourselves online and who we can talk to if we are unsure of anything online. The children did activities in art, literacy and ICT for Safer Internet Day.
Picture below of some P5 children with the booklets they made to encourage people to stay safe online.
Catholic Schools Week 2022
St Martin's participated in Catholic Schools Week.
This years theme was "Living Life to the Full".
The children took part in daily activities to mark the occassion and displayed some of their wonderful work in the chapel.
Families in Numeracy 2021/2022
Congratulations to all the children and parents in Primary 3 who participated in the Families in Numeracy programme (F.I.N). The children took a maths game home to play with their family each week. The children really enjoyed the variety of games and had fun learning maths.
Term 1 Mathletic Wizards
Congratulations to the children who were recognised for all their hard work and endevour from the beginning of the term on Mathletics and were crowned mathletic wizards for term 1.
All children have worked so hard this term on mathletics!! Keep up the wonderful efforts!!
Christmas Celebrations 2021
Wishing our school community a happy, safe and peaceful Christmas. Best wishes for 2022!
Off to the North Pole
P6 and P7 take a walk to post some very important letters!
P1 and P2 have been busy making sure their Santa latters arrive on time!
Blue Peter Book Awards 2022
We are so proud that our P6 and P7 class have the honour of judging the Blue Peter Book Awards 2022. The boys and girls are so excited to have this opportunity and are thrilled to be taking part- only 12 schools are chosen! Well done boys and girls, and Miss Keown. Happy reading...
Ditch the Dark 2021
Fabulous effort as always everyone!! Thank you to the kitchen for our yummy breakfast. Thank you also to the Neigbourhood Policing Team for escorting us to school and for taking the time to have a chat with each class.
Good Luck Devenish
Good luck to Devenish Senior team as they participate in the intermediate final in Brewster Park tomorrow evening against Erne Gaels.
To mark the occassion we had a "blue day" in school and children were encouraged to wear club colours.
Good luck Devenish from all at St Martin's
Accelerated Reader
Congratulations to all the children in KS1/KS2 who achieved their accelerated reading target.
The children have been reading books for enjoyment and then doing an online quiz based on the book. Well done everyone!!
School Council 2021-2022
St Martin's Student Council has been elected for the forthcoming year.
The school council will give students a voice.
Congratulations to Cillian, Aoife, Daire, Rebecca, Elsbeth, Molly, Eimear and Mya on being elected to the student council by their peers.
Welcome
A warm welcome to all the Primary one children as they begin their journey through St Martin's.
We hope that they are very happy in St Martin's P.S.